US Catholics recall Benedict XVI as theologian, teacher and pastor
After the Death of Pope Benedict XVI, U.S. Catholic leaders offered their prayers, and described his influence as a theologian and scholar, and as a man who loved God and loved the church.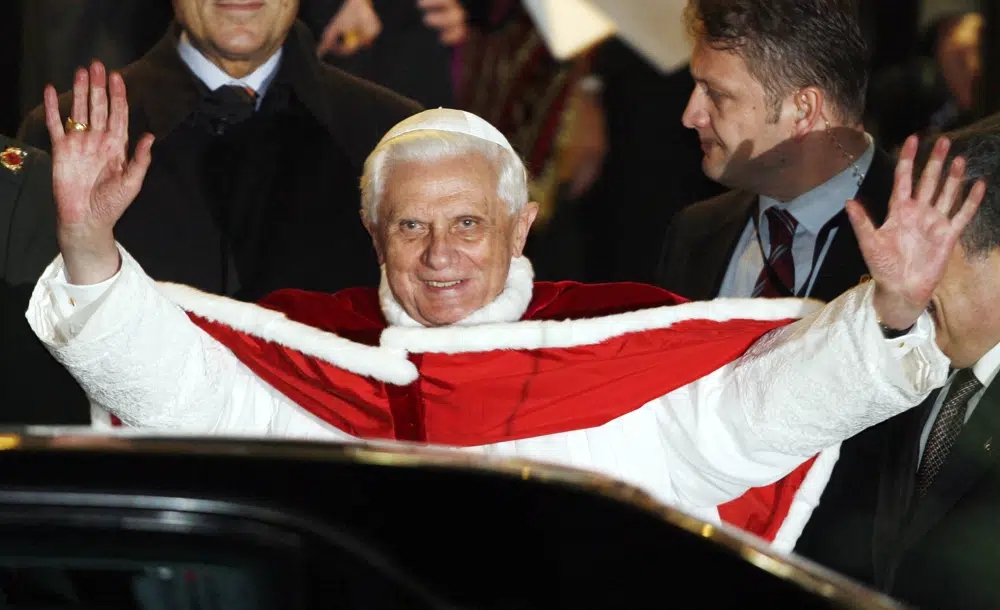 NEW YORK – As news of the death of Pope emeritus Benedict XVI made its way Stateside, one of the first reactions came from Cardinal Seán O'Malley of Boston, who reminisced on the "deep pastoral care" the pontiff demonstrated in a meeting with clergy sex abuse survivors on a pastoral visit to the U.S. in 2008.
It was a significant moment not just in Benedict's pontificate but in church history, as it was the first time a pope met with and apologized to clergy sex abuse survivors.
"It was a great privilege for me to be present at this meeting, as the Holy Father, in very personal ways, demonstrated his deep pastoral care for the survivors," O'Malley said.
"Pope Benedict XVI recognized the pain experienced by survivors and all persons impacted by the abuse crisis," O'Malley continued. "He was then, and at all times remained, committed to the Church supporting their journey towards healing and doing all that was possible to ensure protection of children, young people and vulnerable adults."
The reflection was among the first of many that came from U.S. Catholic clergy and lay leaders on Benedict's death, with many offering prayers, describing his influence as a theologian and scholar, and hailing the late pontiff as a man who loved God and the church.
Archbishop Timothy Broglio, president of the United States Conference of Catholic Bishops, called Benedict a "superb theologian" and "effective teacher of the faith."
"As a priest, university professor and theologian, archbishop, and cardinal, his voice in deepening an authentic understanding led all of us to a more profound love of truth and the mystery of God," Broglio, Archbishop for the Archdiocese of the Military Services, USA, said in a statement.
"It will take many years for us to delve more deeply into the wealth of learning that he has left us," he said.
Broglio also highlighted Benedict's decision to resign from the papacy in 2013, and how the decision "continued his teaching about courage, humility, and love for the Church."
"He recognized the great demands made of him as the chief shepherd of the Universal Church of a billion Catholics worldwide and his physical limitations for such a monumental task," Broglio said. "Even in retirement, retreating to live out a life in quiet prayer and study, he continued to teach us how to be a true disciple of Christ while still contributing to his legacy."
"Generations will continue to be enriched by his books, discourses, and homilies," he added. "They all reveal a depth of learning and reflection that is essential both in our time and in the future."
Cardinal Timothy Dolan of New York said Benedict was a "erudite, wise and holy man, who spoke the truth with love." Dolan added the church mourns his death, "while grateful for the gift he was of a good shepherd and Holy Father."
President Joe Biden, himself a Catholic, remembered the generosity Benedict showed him when he visited the Vatican in 2011. Biden said Benedict will be remembered as a "renowned theologian, with a lifetime of devotion to the Church, guided by his principles and faith."
"As he remarked during his 2008 visit to the White House, 'the need for global solidarity is as urgent as ever, if all people are to live in a way worthy of their dignity,'" Biden said in a statement. "May his focus on the ministry of charity continue to be an inspiration to us all."
Cardinal Blase Cupich of Chicago, in a statement, noted that Benedict was the last pope to attend the Second Vatican Council, and with that, "served as a bridge to the future, reminding us all that the reform and renewal of the Church is ongoing."
Peter Kilpatrick, President of the Catholic University of America, also commented on Benedict's contribution to Vatican II, saying he was one of its "great fathers."
"… [Benedict sought through his teaching and writings to educate people how to venerate, read and understand Holy Scripture – and much of his ministry and pontificate were dedicated to that purpose," Kilpatrick said in a statement.
"He will be remembered as the pope who inspired the faithful's deeper understanding of the Holy Eucharist as the 'source and the summit' of the Catholic faith, prompting the renewal of this most holy sacrament as central to the faith, expressing God's infinite love for every man and woman."
John McGreevy, the Charles and Jill Fischer Provost at the University of Notre Dame, who recently published the book Catholicism: A Global History from the French Revolution to Pope Francis, commented that in some ways Benedict's death marks the end of the post-Vatican II era.
McGreevy highlighted that Benedict was the last living major figure from the Second Vatican Council, and noted  the "major influence" he had on some of the resulting documents. However, he also acknowledged that over time "became a leader of those resistant to further changes made" in its name.
Other critical comments related to Benedict's legacy after he died related to the February 2022 report that implicated him in the cover-up of clergy sexual abuse when he was archbishop of Munich between 1977 and 1982. Benedict previously acknowledged that at times he didn't act decisively in confronting abusers.
Reacting to Benedict's death, Francis DeBernardo, executive director of New Ways Ministry – an organization that works to bring together the Church and LGBTQ+ community – said Benedict's contribution, when he was Cardinal Joseph Ratzinger, to multiple documents that spoke out against homosexuality caused and still cause "grave pastoral harm" to LGBTQ+ Catholic community, and allies of it. He added that the documents also caused many Catholics to leave the church.
Overwhelmingly, however, the sentiments of church leaders in response to the death of Benedict can be summed up by the closing line of O'Malley's reflection: "I will miss Pope Benedict."
Follow John Lavenburg on Twitter: @johnlavenburg